Metal Core PCB
Substrates
To integrate your unpackaged LED die or SMD, MARUBENI-OPTO™ products include a variety of solutions including metal-core PCBs that can be printed and etched to your circuit schematic/layout or advanced substrate designs that can be used for thin or thick film defined circuitry. Our ceramic products include aluminum nitride, which is approximately 7X more thermally conductive than alumina ceramic, as well as a compound Aluminum/Ceramic hybrid material that features low thermal coefficient of thermal expansion, high heat conductivity, high strength, lightweight and is an ideal alternative to typical ceramic or metal substrate products.
A highly thermally conductive insulated metal substrate (IMS) consisting of an aluminum base, an epoxy-based insulation layer with a high inorganic content filler demonstrating high thermal conductivity, and a conductive foil, thereby realizing thermal resistance equivalent to, or less than that of an alumina ceramic substrate.
HIT PLATE
Characteristics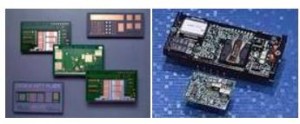 – High thermal conductivity (The line up with maximum conductivity of 8W/mK)
– High reliability (voltage resistance, heat resistance, and heat shock resistance and durability.
Application
– Industrial electronic equipment (transistors and diode modules, step and servo motors, SSRs, etc.)
– Automotive electrical components (power driven power steering controller, inverter for (H) EV, etc.)
– Power supply (AC-DC converter for telecommunications, OA, semiconductor equipment
– Home appliances (hi-fi amplifiers, inverters for air conditioners, etc.)
– thers (PDPs, LEDs and many other)
AN PLATE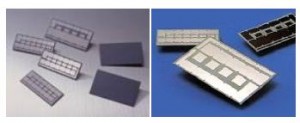 Characteristics
– High thermal conductivity: 7 times greater than that of alumina
– High insulation performance: low dielectric constant, electric properties as good as those of alumina
– Mechanical properties: high strength equivalent to alumina
– Low thermal expansion ratio: close to that of silicon
Application
– Power transistor module: for industrial machinery (machine tools, semiconductor manufacturing equipment, wind power generation, FA robots, etc.), electric railway
– Power supply: Uninterrupted power supplies (UPS)
– Light emitting diode (LED): Mounting substrate – Automotive (HEV inverters)
SN PLATE
Characteristics
– Thermal conductivity: about four times greater than alumina
– Mechanical properties: a substrate that has excellent mechanical properties, such as high fracture toughness and bending strength, and is durable under severe conditions involving rapid temperature changes
– Thermal expansion ratio: close to that of silicon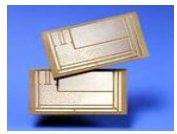 Application
– Power transistor module: for industrial machinery (machine tools, semiconductor manufacturing equipment, wind power generation, FA robots, etc.), electric railway