micro UV-LED chip for microLED display
The full-color flat panel display uses LED technologies. OLED had taken the lead in the most recent years and it's now shifting to microLED. There are two mainstream microLED technologies, 3 microLED Display and Blue + RG Display, which unfortunately have disadvantages for mass production of flat panels. Our technology has overcome those disadvantages and will make the most efficient display system.
These are the key disadvantages of these 3 older technologies:
OLED Display: Short lifetime and poor durability against heat
3 microLED Display: Complicated mounting process due to three (red, blue, and green) different structures
Blue + RG Display: Poor efficiency and color balance
In contrast, our new technology. UV + RGB Display, has the following advantages:
Long lifetime
Excellent efficiency
Easier mounting process
Great color balance
Blue micro-LED can achieve the full-color display by exciting red and green phosphors with blue LED . All micro UV LED chips have the same structure, which makes the mounting process and the device control much easier compared to the full-color display with three LEDs (red, green and blue). Luminous efficiency is doubled when fabricating micro UV LED chip with SLS structure in both n and p layer (Patent pending).
Samples are available upon request. Please click here to contact us.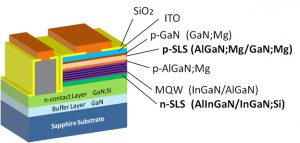 Micro UV-LED wafer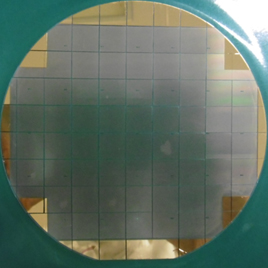 Micro UV-LED chip

Image of UV light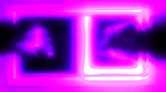 RGB element structure images by V-Technology (Japan)